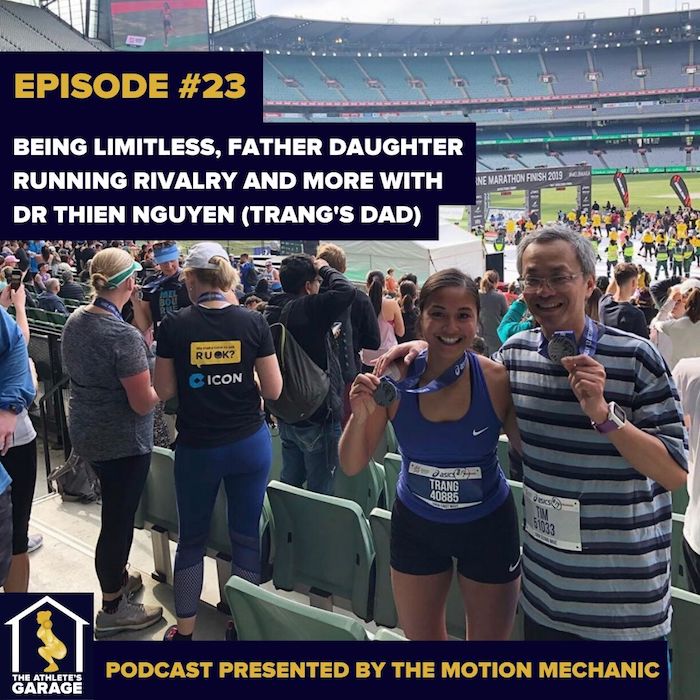 In this episode of The Athlete's Garage, Trang sits down to chat with her dad & GP, Dr Thien Nguyen.
Thien has great story to tell - How he migrated to Australia after growing up in Vietnam during the war. How he got into Medicine and is now into his 20th year of practising as a Doctor. How he discovered the joys of running later in life and even gets competitive with Trang. In this chat, Thien and Trang cover the mindset to overcome adversity, breaking limiting beliefs, the progress Thien experienced whilst following a structured running program, the way running has changed his life, common medical advice and more.
In a lighter and more personal episode, you'll get an insight into Trang's upbringing and family culture. You'll also be inspired and learn how you can truly be limitless in your pursuits, no matter your starting point. 
Get in touch with Thien
Email: thiennguyena1@yahoo.com
Get in touch with Trang
Facebook: The Motion Mechanic
Instagram: TheMotionMechanic
Email: trang@themotionmechanic.com
Website: www.themotionmechanic.com
Physiotherapy: BodyMotion Physiotherapy
Strength and Conditioning Coaching: Barbell Samurai