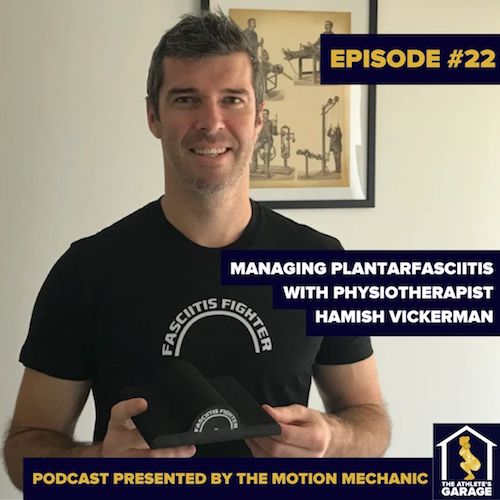 In episode 22 of The Athlete's Garage, Trang sits down to chat with Physiotherapist and creator of the 'Fasciitis Fighter', Hamish Vickerman aka Hamish the Physio.
Hamish shares the ins and outs of Plantarfasciitis - What plantarfasciitis is, the symptoms and how to manage it with Physiotherapy treatment and exercise rehab. Trang and Hamish go through a case-study of a common example of a runner with Plantarfasciitis, and talk through the load management and rehab for this runner in the lead up to a marathon. Hamish also answers your listener questions from Instagram.
If you are someone or know someone who has experienced Plantarfasciitis, or even if you are a runner wanting to maximise your awareness surrounding injury management, then this episode is for you. Enjoy!
Get in touch with Hamish
IG: @hamishthephysio @fasciitisfighter
FB: Hamish the Physio
Email: info@fasciitisfighter.com.au hamishthephysio@gmail.com
Website: Fasciitisfighter.com.au
Get in touch with Trang
Facebook: The Motion Mechanic
Instagram: TheMotionMechanic
Email: trang@themotionmechanic.com
Website: www.themotionmechanic.com
Physiotherapy: BodyMotion Physiotherapy
Strength and Conditioning Coaching: Barbell Samurai